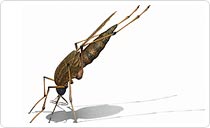 Each year between 1500 and 2000 people are diagnosed with malaria on their return to the UK. Anyone visiting a malarious area can become infected no matter what age
or sex or ethnic background. Malaria can kill very quickly if not diagnosed in time.
In 2005 there were 11 deaths from malaria in the UK.
However these deaths and illness are avoidable.
The Health Protection Agency has issued simple preventative measures
These are:
A. Awareness and Advice
B. Bite Prevention
C. Chemoprophylaxis (malaria tablets)
D. Diagnosis (go to see doctor on return if any concerns)
Malaria is transmitted by mosquito bite, and as there is no vaccination available - prevention is achieved through malaria prophylaxis tablets and bite avoidance.
Do NOT rely on homeopathic or natural antimalarial treatments.
Bite avoidance can be achieved by
Choose and use a good quality insect repellant - like one containing DEET
Sleep under a mosquito net which is impregnated with insectiside
Wearing light, loose clothing that covers as much as possible eg arms and legs
Use plug-in insectiside or burning coils to keep insects away
Malaria Prophylaxis
There is a choice of drug schedules used for chemoprophylaxis depending on the area visited. There is a strain of the parasite – Plasmodium Falciparum which causes malaria which in some areas of the world is resistant to chloroquine.
Therefore depending on the area being visited there are different drug recommendations for malaria prophylaxis.



A consultation fee of £20 is charged to each client at the start of the consultation. Any client who purchases vaccinations and/or antimalarials will be refunded the £20 charge and will only be charged for their purchases.
Drug of Choice
Price per tablet
Price per pack
(Atovaquone-Proguanil) 1 tab daily
£2.10
£25.00 per pack of 12
Lariam (Mefloquine) Tabs
1 tab weekly
£3.28
£26.24 per pack of 8
Doxycycline caps
1 tab daily
£0.36
£2.88 per pack of 8
Paludrine/Avloclor Tabs
(Chloroquine and Proguanil)
£2.53 per one week course
£17.70 per pack of 112
( 7 weeks course)
Chloroquine tabs
£2.50 per pack of 20
Proguanil tabs
£11.76 per pack of 98
Malarone Paediatric Tabs
£ 1.29
£15.48 per pack of 12
On your return from a malaria area, continue taking the anti- malarial medication as advised to ensure you have cover, and if you experience any high fever in the next two years, go and see your doctor and mention you have travelled to malarial areas.
Book Now